Setting Up for Success: Best Practices for K‑12 Employee Onboarding
---
Optimize the Onboarding and Off-boarding Experience to Foster a Positive Employee Journey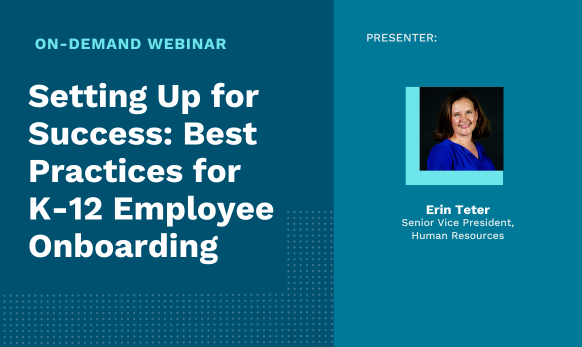 Watch on-demand and join Senior Vice President of Human Resources, Erin Teter, as she shares her insights on how to create a welcoming and efficient onboarding experience for new hires while ensuring a smooth transition for departing employees. Gain valuable knowledge and practical strategies that you can implement right away.
During this exclusive webinar, you will learn about:
Seamless onboarding: Create a welcoming, efficient onboarding experience for new hires, setting them up for long, successful careers.
Promoting employee growth: Drive satisfaction, collaboration, and a sense of purpose across any staff.
Positive off-boarding: Maintain positive professional relationships and preserve institutional knowledge for your next new hires.
Watch the webinar and discover how technology can transform these critical aspects of your organization, ensuring a seamless and engaging journey for your employees.
---
Erin Teter
Senior Vice President, Human Resources
Erin Teter, Senior VP of HR at LINQ, creates a supportive and energizing work environment, emphasizing a purpose-driven culture foremployee success, enjoyment, and career development. Erin has over 20 years of experience in HR management and leadership, holds a bachelor's degree in business administration and management from Texas Lutheran University, and is certified as an SPHR and SHRM-SCP.